There is a place for YOU.
Love God, Love Others, Be Loved.
The mission of First Baptist Gulfport Students is to teach students to Love God, Love Others, and Be Loved. We want to create an environment where teenagers know
they are valued by us because they are valued by God.
If you are a teenager (or have a teenager), there is a place for YOU!
Stay Connected with First Gulfport Students
Hear this: You are alive because God chose to create you. How you spend the life you've been given is what truly counts. You have one life, one chance to make an impact. Make It Matter. Help your student "Make It Matter" this summer at camp on July 6-10 at Cullowhee, NC.

*if you register your student before April 5, you'll receive $50 off!
Life Groups | Sunday, 9 AM
Life Groups will meet each week
LIVE ON INSTAGRAM
at 9:00am on our student Instagram page.
Teaching + Worship | Sunday, 5 PM
Sunday night teaching will still happen
on Instagram TV (IGTV) and
on our student Facebook page.
These are a few of the big events that we get excited for every year.
A winter weekend that happens locally to give our students an opportunity to pour into our community as they are poured into by our community. Students stay in the homes of First Baptist Gulfport church members broken up by gender and grade groups to meet and develop their community in a closer level.
A fall weekend where we can get away from the hustle and bustle of the daily grind and focus and refresh our lives. Intentional worship, fellowship, and games are led to help us grow closer to God as we grow closer to each other.
One of our favorite weeks of the year is Summer Camp Week! It is an opportunity to bond together and create mile marker experiences and friendships that will last a lifetime. You DO NOT want to miss this week.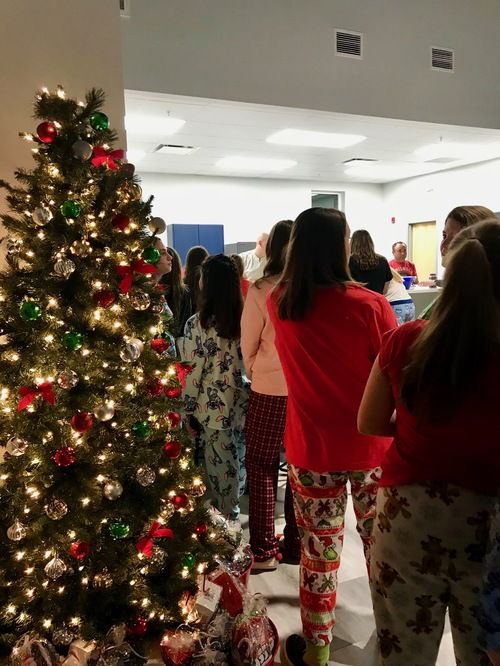 As we close out each year, there is nothing more exciting than getting together for our annual Christmas Party. Good food, fellowship, and some laughs are sure to be had by all!